About Kansas Case
Management
TFI serves as the Foster Care, Reintegration, and Adoption Case Management grantee for 26 counties in Southeast and Southcentral Kansas. When children are removed from their homes by the courts in Kansas, they are placed into DCF custody and referred to TFI in these counties for case management services. TFI works with children and their parents to address the risk and safety issues that led to removal, with the goal of returning the children home safely and quickly, when possible. For children unable to return home, TFI works towards a timely adoption or other permanency option.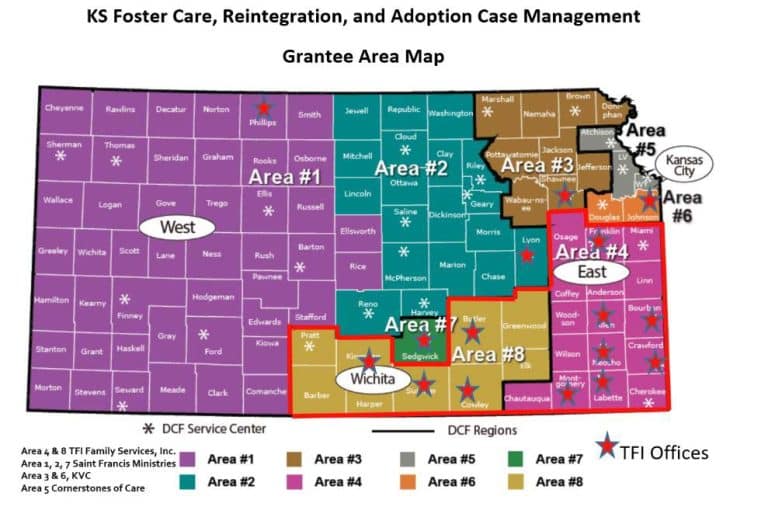 We believe every child should have a childhood where they are nurtured body, mind and soul; are safe, protected and loved; and have hopes, dreams and opportunities. Unfortunately, there are times when a child's parents coping skills are overwhelmed, and they are not able to meet their child's needs. In these situations, it becomes necessary for the courts to temporarily remove the child from their home. Usually, it is in the child's best interest to be reunified back with their parents as quickly as possible when the parent's situation stabilizes. TFI strives to ensure children safely return home within 12 months of removal.
While children are in out-of-home care, TFI looks for relatives or family members who the child knows and loves who would be willing and able to care for the children while the parents are working towards completing the tasks to get the children back home.
TFI has a long history of successful outcomes in placing children with their relatives or family friends (aka non-related kinship care) while their parents are unable to care for them. The loving families provide a home that is more familiar to the child, and decreases the trauma the child and parents both experience from the child being removed from their home. Finding caregiving relatives, family friends, teachers or neighbors is one of the first priorities for TFI when a child is referred for case management services. If you know of a child that you want to provide a home for, or support to the family, please call us at 833-7FOSTER.
Permanent Custodianship: for those youth for whom the court has determined that reintegration and adoption are not viable permanency options. Permanent custodianship provides the child/youth with the next preferred goal. Permanent custodianship enables the caretaker to exercise all the rights and responsibilities of a parent without the on-going oversight of DCF. Custodianship may be an option for youth with or without the termination of parental rights and can be established with either a relative or non-relative.
Another Planned Permanent Living Arrangement (APPLA): for youth 16 and older when other permanency goals are not viable, TFI will work with the youth to become self-sufficient in order to age out of the foster care system successfully into living independently. This can include helping the youth learn life skills such as , obtaining employment and finding housing.
SOUL:
Permanency for Older Youth
What is SOUL? Support Opportunity Unity Legal Relationships (SOUL) is a permanency option for older youth who are 16 and older in foster care. SOUL was designed by young people as a proposed new legal pathway to form families who will support them during their journey to adulthood. The Kansas Department for Children and Families (DCF) and a growing network of statewide partners are collaborating to build the understanding, resources, services and administrative and legal infrastructure needed to make SOUL Family a legal permanency option.
During this journey, your support is needed. SOUL Family was conceived by young leaders with foster care experience, with support from the Annie E. Casey Foundation and its Jim Casey Youth Opportunities Initiative®. Kansas will be the first state to pilot the SOUL Family option. To learn more about SOUL, visit https://www.childally.org/soul-family.
Adoption through Foster Care
When children cannot safely return to their parents, adoptive families provide a safe, loving and nurturing "forever" home. Hundreds of children in Kansas are currently waiting for a forever home, and you can meet some of these children on our Meet the Kids page and at the AdoptKSKids website. Most children who are adopted through TFI and in the state of Kansas are adopted by their foster parent or a relative who has been providing care.
The greatest need for permanent, loving homes is for older children and sibling groups. TFI believes there is a home for every child, and TFI works to locating and selecting the best possible family for a child, rather than finding a child for a specific family.